Barn destroyed by fire north of Vienna
A barn was destroyed by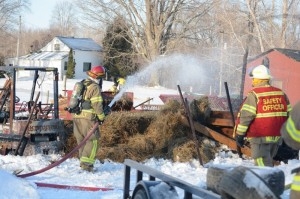 a fire north of Vienna on Calton Line just west of Plank Road on Friday, March 14.
Property owner Steven Martin said he noticed flames coming from the south side of the barn at about 6:15 a.m.
Bayham firefighters extinguished the blaze quickly but remained on scene for several hours putting out hot spots.
Elgin County Ontario Provincial Police closed Calton Line from Plank Road to Richmond Road while firefighters were on scene.
Several sheep, a dog and a few cats died in the fire.
The family home was not damaged and on one was injured.