Belmont Peewees point away from OMHA title
Belmont Peewee Rep player Jack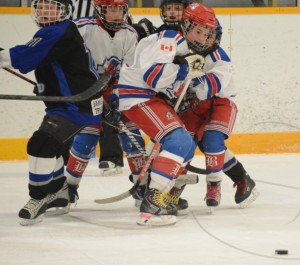 Beggs, front, watched the puck as it inched away from him while teammates Liam Bacon (hidden) and Sam Gredig, middle, looked on during the first period of game three of their Ontario Minor Hockey Association West "C" championship series versus Mariposa at Belmont Arena on Saturday, March 22.
Belmont won that game 5-1 and followed up with a 2-0 victory the following day at home to take a five point to three lead in the six-point series.
Belmont can claim the title by winning or tying game five at Little Britain on Saturday, March 29, puck drop at 3:30 p.m.
If a sixth game is needed, it will be played at Belmont Arena on Sunday, March 30 starting at 5 p.m.