Consolidated courthouse officially opened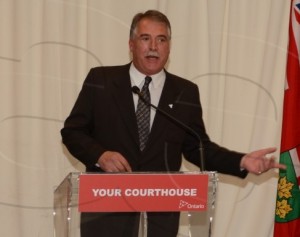 The completion of construction on the consolidated Elgin County Courthouse in St. Thomas was celebrated with an official ribbon cutting ceremony on Tuesday, March 18.
The celebration, emceed by former Elgin-Middlesex-London MPP Steve Peters who was credited as the driving force behind the project, included a time capsule insertion.
A steel cylinder containing several City of St. Thomas, Elgin County and local justice community souvenirs was placed into a historic cornerstone in the basement of the historic portion of the building.
Dignitaries attending the ceremony included Ontario Attorney General John Gerretsen along with most local politicians and members of the justice community including high ranking police officers, lawyers and courthouse staff.