Crash damages two vehicles near No Frills
A crash near No Frill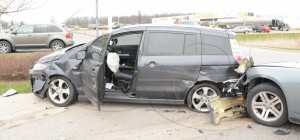 s in north Aylmer that happened at about 2 p.m. on Monday, April 28 resulted in significant damage but no injuries were reported.
The crash involved a black Mazda 5 mini-van that appeared to have been struck in the rear by a grey Dodge Charger.
The mini-van was also damaged on the driver's side front.
Aylmer Police, firefighters and paramedics attended the crash that took place on Progress Drive by the entrance to the No Frills gas bar and across from the entrance to the parking lot of the Aylmer District Ministry of Natural Resources office.
A woman and a young child were being examined by paramedics in a nearby ambulance but Sergeant Michael Knight didn't believe anyone was hurt as a result of the crash.
Sgt. Knight said the investigation was ongoing and would not comment further at the scene of the crash.