Crash sends two drivers to hospital
A three-vehicle crash that took place shor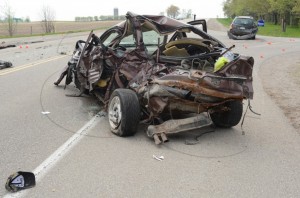 tly before 10 a.m. on Wednesday, May 21 along Elgin Road at Crampton Drive north of Harrietsville sent two of the drivers to hospital for treatment of their injuries.
Middlesex County Ontario Provincial Police Constable Kevin Howe said the man who was driving a Pontiac Grand Am was taken to a London hospital with life-threatening injuries while a woman driving a Ford Focus was taken to a London hospital with non-life threatening injuries.
He said the Grand Am struck the rear of the Focus in the initial crash.
Both vehicles were travelling north on Elgin Road.
The drivers of the cars lost control and the Grand Am spun into the path of a northbound transport truck.
Two pickup trucks, one towing a trailer travelling north and another in the south lane, ended up in ditches on either side of Elgin Road when they tried to avoid the two vehicles from the initial crash that were still on the road.
Middlesex OPP officers along with Thames Centre firefighters and London-Middlesex Emergency Medical Services paramedics responded to the crash.
Const. Howe expected Elgin Road between Gladstone Drive in the south and Mossley Drive in the north to be closed for the continuing investigation until 4 p.m. that day.
No other details were available.