Crash closes Hwy. 3 east of Aylmer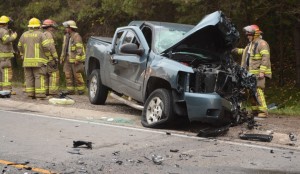 A head-on collision between a pickup truck and a tractor trailer had Highway 3 (Talbot Line) closed to traffic east of Aylmer between Heritage Road and Culloden Road for much of the day on Thursday, Oct. 16.
Elgin County Ontario Provincial Police Constable Troy Carlson said the crash happened at about 6:35 a.m. just east of Springer Hill Road on Hwy. 3.
After being extricated from his vehicle by Bayham volunteer firefighters, the 51-yeard-old driver of the grey 2007 Chevy Silverado pickup, a Simcoe man, was taken by ambulance to a local hospital for treatment of "life threatening injuries," Const. Carlson said.
The driver of the tractor trailer, a 54-year-old Dutton-Dunwich man, was not injured.
Fog was reported throughout the region that morning but no further details of how the crash occurred were available other than the eastbound pickup truck crossed over the centre line and struck the westbound tractor trailer, Const. Carlson said.
Several firefighters from both the Straffordville and Port Burwell stations responded.
Const. Carlson said Technical Traffic Collision investigators were on scene assisting with the ongoing investigation and Hwy. 3 in the area would be closed until about 2 p.m.
Traffic was being detoured around the collision scene at Heritage Line and Culloden Road during the investigation and clean up.