EESS Juniors win football quarterfinal; semifinal Nov. 14 at 2 p.m.
Friday, November 7th, 2014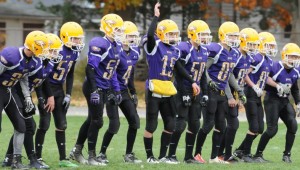 Host East Elgin Secondary School Junior football players lined up to attempt an onside kick early in a Thames Valley Central Tier 1 football quarterfinal against London Central Secondary on Friday, Nov. 7. The two teams traded touchdowns until, with EESS ahead 35-34, Central attempted a two-point conversion rather than settling for a single to tie the game. That was blocked by East Elgin defenders. EESS owned the rest of the game and racked up a final score of 56-34 to advance to a semifinal against London Lucas at Citywide Field in London Friday, Nov. 14, at 2 p.m.
Photography by : Rob Perry