Taking to the Stratford Stage in Henry V
Monday, November 17th, 2014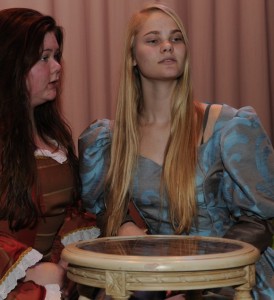 Jenna Gilbert, left, as a lady-in-waiting, whispers to Emily Falk as Princess Katherine of France during a rehearsal of a production of Henry V by the drama department at East Elgin Secondary School. The 27 actors in the cast and 10 backstage crew will travel to the Stratford Shakespearean Festival Theatre on Thursday, Nov. 20, for a day of student workshops, as well as performing their opening scene on stage. The show will open to the public at EESS Nov. 26 through 29 at 7 p.m. Tickets are available through the school office.
(The story has been corrected. Originally, the show time was erroneously listed as 8 p.m.)
Read more in the Nov. 19 print edition or the online e-edition.
Photography by : Rob Perry