Anger expressed at public meeting on Ojibwa loan default
Some local residents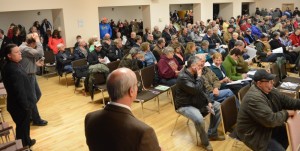 expressed anger and frustration during the public information session held by Bayham officials at Vienna Community Centre on Monday night, March 16 to provide details on how the municipality was dealing with paying for a $6-million bank loan the Elgin Military Museum had defaulted on for transporting the Ojibwa submarine from Halifax to Port Burwell.
Well over 200 residents filled the community centre's hall to hear some introductory remarks by Mayor Paul Ens followed by an about half hour long presentation by Administrator Paul Shipway.
The public information session did not include a question and answer session and the residents were told to send written questions, concerns and opinions to a new dedicated email address, ojibwa@bayham.on.ca, or to drop written submissions off at the municipal office or to contact an elected official.
"We're just covering your butt for making a bad deal," one man called out from the audience in the middle of Mr. Shipway's presentation.
Another man yelled out that the meeting was "redundant."
At the end of the presentation, the frustration was heightened when the crowd realized they wouldn't have an opportunity to have their concerns heard.
"That's it?" another man yelled. "You are all a bunch of…"
"That's a bunch of (expletive)," shouted out a different man.
"Why did you do it?" a woman asked.
"Resign!" called out more than one person.
All of the information presented by Mr. Shipway, including the $27,555.95 in monthly payments the municipality was about to start making to the Royal Bank to pay off the $6-million loan over 25 years and the potential 10.3-percent increase it would have on the 2016 municipal tax levy, was to be made available on Bayham's website.
Paper copies were to be handed out at the municipal office as well.