Bravery medal for Ben Wiebe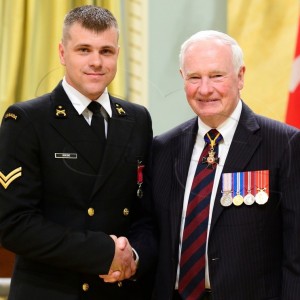 Leading Seaman Ben Wiebe of Aylmer, left, a military police officer at Canadian Forces Base Kingston, received a Medal of Bravery from Governor General David Johnston at Rideau Hall in Ottawa, Friday, June 26.
He was hailed for his part in helping save a disturbed man who had doused himself in gasoline and was threatening to set himself on fire in February of 2013. His partner, Master Corporal Garet Avery, was also awarded a bravery medal.