ELP founder saluted by CCCA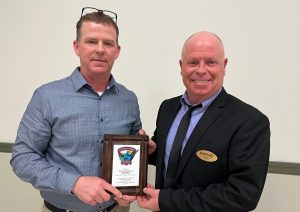 Teacher Duncan Sinclair, who founded the Environmental Leadership Program at East Elgin Secondary School in 2000, received the 2023 Conservation Award from Catfish Creek Conservation Authority at its annual general meeting at East Elgin Community Complex on Monday, Feb. 27.
Mr. Sinclair, in turn, lauded CCCA for its cooperation with and support of ELP since its start and pointed out that both authority General Manager Dusty Underhill and Resource Planning Coordinator Gerrit Kremers were graduates of it.
The award was presented on behalf of the authority by Malahide Councillor Scott Lewis.
"Most of here want to make a difference in our community," he told the crowd at the meeting, "But when there's one duck out there that leads the flock…somebody who does this deserves the award."
More in the March 8 edition of The Aylmer Express.  (AE/Rob Perry)