Beach Patties re-opens after roof ripped off former site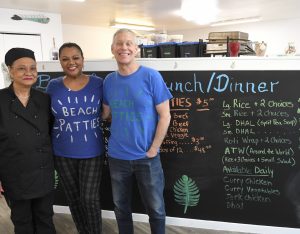 Beach Patties, a Caribbean/breakfast restaurant in Port Burwell, has reopened at 29 Wellington St. after a severe winter storm blew the roof off its former home at 34 Robinson St. just before Christmas.
Lisa Partap and Jon Staples are the owners of the restaurant, with Lisa's mother Joan Partap providing the cooking expertise in the kitchen.
Jon's a retired teacher, and Lisa gave up her paralegal practice after moving to Port Burwell from Brampton.
They decided in 2021 to start selling Caribbean food from under a tent on Port Burwell's main street, but found they had to scramble to find public health-certified kitchens to cook in.
After just two months under canvas, they moved to 34 Robinson Street, renting what had been a former restaurant, although one with limited space.
Lisa said they found quick success and a taste for Caribbean food almost immediately from local customers, and they'd sell out every day.
They were there for a year and four months before last December's pre-Christmas blast of winter blew the roof off that building.
For the full story, see the May 3 edition of The Aylmer Express. (AE/Rob Perry)