Springwater stocked for trout season
East Elgin Secondary School co-oper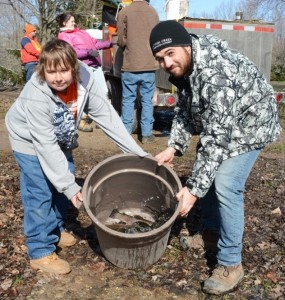 ative education student Brandon Lang, left, and Catfish Creek Conservation Authority watershed stewardship technician Fill Aguiar helped stock Springwater Pond with 400 pounds of rainbow trout on Wednesday, April 16 in preparation for the upcoming fishing season.
The opening day of trout fishing is Saturday, April 26 with anglers able to cast their lines as of 6 a.m. that morning.
Springwater Conservation Area will host the Tim Hortons Kids Fishing Derby on Saturday, May 10.
Children under age 12 will be admitted to Springwater for free to fish that day.