Door-to-door mail to end in Aylmer
Thursday, December 11th, 2014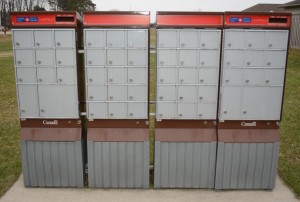 A Canada Post official confirmed on Wednesday, Dec. 10 that Aylmer's door-to-door mail delivery would be "converting" to community mailboxes in the second half of 2015.
Aylmer post office employees were told about the development that morning.
"The postal codes affected will be N5H," the Canada Post spokesman said via an email message.
"Within the next couple of days, each affected household will receive an information package with a mail-in survey," she continued. "The package will tell them how they can express their priorities and preferences about their new delivery method."
The spokesman said the survey has helped Canada Post in other jurisdictions in planning the conversion process with municipal officials to "choose safe, suitable locations" for community mailboxes.
"Please note that no regular full-time or part-time employee will lose their job as a result of the initiative," she continued. "As we have stated throughout this process, we will reduce our workforce largely through attrition as people leave the company."
Read more in the Wednesday, December 17, 2014 print edition or the online e-edition.
Photography by : Craig Bradford