EESS boys, girls lose at Southeast hockey finals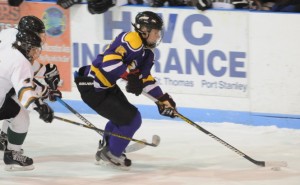 Gage Zehr of East Elgin Secondary School rushed the puck toward the host Tillsonburg net during the Thames Valley South boys hockey final on Tuesday, Feb. 24. Tillsonburg scored early and held a 1-0 lead until nearly the end of the second period, when Zach Robertson tallied to tie the game for EESS. The third period was scoreless, then Tillsonburg scored in the overtime period to take the title.
Meanwhile, EESS girls fell in their Southeast final to host Dorchester.
Both East Elgin will still compete in WOSSAA "AAAA" tournaments in the next week, the boys at Stronach Arena in London on Monday, March 2, starting at 9 a.m.
Details on the girls tournament as they become available.