Update on motorcycle, car crash
A St. Thomas man, 66, riding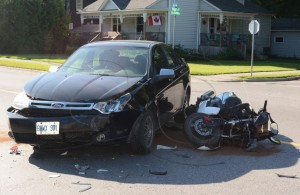 a motorcycle was taken by land ambulance to St. Thomas airport and then airlifted to London Health Sciences Centre for treatment of serious leg and head injuries following a crash with a Ford Focus at the intersection of Talbot Street West and St. George Street in Aylmer on Wednesday morning, July 22.
As of 12:30 p.m. that day, his condition was listed as stable.
The collision occurred shortly after 8:30 a.m. Aylmer Police officers were on scene investigating and had closed Talbot Street West to traffic between Oak Street and Elm Street. Aylmer firefighters also responded.
An eyewitness said the Ford Focus came to a stop at the stopsign at the north end of St. George Street and then turned left (west) into the path of the eastbound motorcycle which had been travelling behind a truck along Talbot Street. The witness said the rider was thrown from his motorcycle and "flipped" over the car onto the pavement.
Talbot has been re-opened to traffic in both directions.