Express launches annual Thanksgiving food drive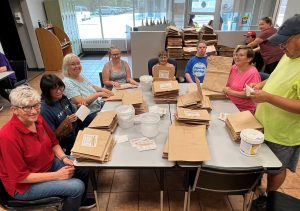 Next week, readers will find a donation bag inside this newspaper for The Aylmer Express's 34th annual Thanksgiving Food Drive for Corner Cupboard food bank in Aylmer and St. Thomas Caring Cupboard food bank.
"Demand is up for sure," said Penny Hilliker, manager of the Aylmer food bank, which is part of the East Elgin Community Assistance Program.
Corner Cupboard was seeing a couple new users every week, some of whom were even past recipients who had turned into donors but now, with the rising cost "of everything," again needed help making ends meet.
Those in need were struggling just to pay rising rent and utility bills, she said, and as a result, something had to be sacrificed, and that was usually food.
"We're back to needing the essentials," she said, as listed on labels on the donation bags.
They included canned foods such as fruit, vegetables, beans, pastas, stew, chili, soup and tuna, ham and chicken.
Dry pasta, such as spaghetti, "elbow" macaroni and macaroni and cheese mixes, bottled or canned pasta sauces, tomato sauce, tomato paste, rice of varying kinds, flour, white sugar, cooking oats, pudding, Jell-O, cake mixes, crackers, cookies, dry breakfast cereals, pancake mix and syrup, gluten-free products, ketchup and other condiments, peanut butter, jam, canned or carton juice, fruit drink crystals, tea, coffee, sweeteners, diabetic (sugar-free) foods, baby food and cereal, toiletries such as shampoo and deodorant and laundry and dish soap were also sought.
Vitally important were foods that could go into school lunches for children, such as fruit and pudding cups, drink boxes and snack bars.
Donations for Corner Cupboard can be dropped off at The Aylmer Express, Canada Post in Aylmer, Hills Pharmacy, Kindred Credit Union, Ryan's No Frills, McTaggart, Armstrong, Dewar and Owen Insurance, Miller's Independent, Wiebe's Wheels, Canada Post in Springfield and Kohli's Fresh Mart in Straffordville.
Cash donations would also be accepted at The Aylmer Express, Hills and Miller's Independent.
Donations for Caring Cupboard could be dropped at Belmont Freshmart, Briwood Farm Market in St. Thomas, Howe's Family Farm Market on Highbury Avenue in Central Elgin and Yurek Pharmacy in St. Thomas.
Anyone needed a special pick-up, or additional donation bags, can contact The Aylmer Express at 519-773-3126.
John Hueston of The Aylmer Express said the company started the food drive many years ago in the spirit of ensuring everyone had a good meal for the Thanksgiving holiday, a traditional feast, and beyond.
"It's incredible to think that, despite Canada having the eight-largest economy in the world, that some of its citizens still go hungry, that no way has been found to remedy what is the most basic of human needs.
"Inflation has made the problem worse, with food prices rising alongside rents and utility costs.
"We rely on the tireless work of volunteers and the generosity of more fortunate members of our community to ensure, at least, that no family or individual suffers hunger during a celebration of a harvest bounty, and throughout the year.
"I encourage anyone who can afford to do so to give to this cause, whether through donations of non-perishable foods or through financial gifts that help the food bank stay supplied in times of shortage. This problem should never exist in this great country. Until the politicians decide to act, please give generously."
In the picture, donation bags were being labeled at the Elgin Community Living office in Aylmer in preparation for the food drive. (AE\Rob Perry)