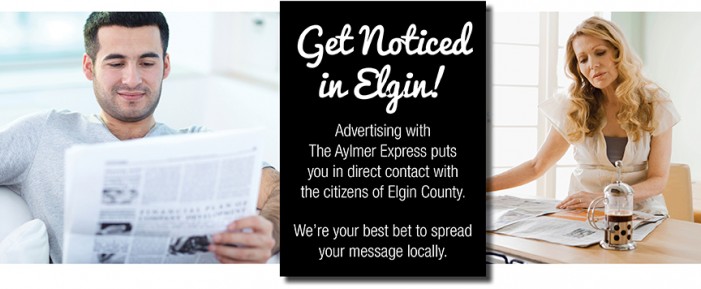 Display Advertising
Please contact us today to discuss rates, design, and why advertising with The Aylmer Express works best for you.
General Classified Ads
$6.00 up to 30 words - 20¢ each additional word. All classifieds are to be prepaid
Examples are - for sale, card of thanks, coming events, yard sales, for rent, wanted, child care, help wanted, services, notices  etc.
Display advertising also available on the classified page. Display advertising rates apply.
Aylmer Express box number $3.00 each insertion
Family Announcements
If you place the first and last name of those appearing in the ad, the Aylmer Express will offer the following special rates:
2 column x 2 inches - $20 • 2 column x 5 inches - $35
Normal line rates apply without first and last names. Contact ads@aylmerexpress.ca for details.
Obituaries
$75 up to 300 words • $100 over 300 words. All prices include one accompanying photo. Additional photo + $25.
Placement on our website also included
Contact info@aylmerexpress.ca for details.
Special Editions
The Aylmer Express publishes a number of special editions throughout the year. Our Farm and Business Progress editions offer a medium to advertise directly to those special audiences in the community.
We also publish magazines that are distributed with The Aylmer Express and throughout Elgin County. Our summer guide, Summer In Elgin, showcases tourism, businesses, food, children's activities and more. In the late fall, Christmas In Elgin is published in conjunction with the start of the holiday season.
Terms & Conditions
All prices are subject to change. All prices are subject to tax.
We accept Visa, Mastercard and American Express
Conditions of Advertising Acceptance –the advertiser agrees that the  publisher shall not be liable for damages arising out of errors in advertising beyond the amount paid for the space actually occupied by that portion of the advertisement in which the error occurred, whether such error is due to the negligence of its servant or otherwise… and there shall be no liability for non-insertion of any advertisement beyond the amount paid for such advertisement.