Two vehicle crash takes out hydro pole in Aylmer
A two vehicle crash involved a hydro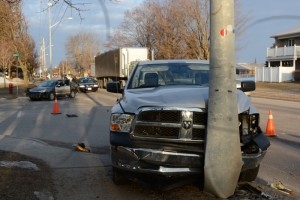 pole and street light at the intersection of Talbot Street West and Caverly Road in Aylmer on Monday at about 7:30 a.m.
A silver Dodge 1500 pickup truck struck the hydro pole and sustained substantial damage to the front driver side.
The second vehicle, a grey Ford Focus, received damage to the front passenger side.
No serious injuries were reported.