House fire started with gasoline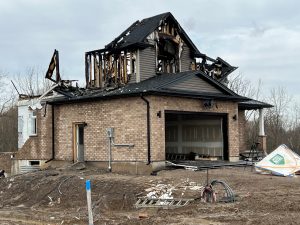 A fire that destroyed a new house that had just been built on Aspen Parkway in Aylmer on March 24 at about 2:30 a.m. was deliberately started with "a large amount of gasoline that exploded," Aylmer Police have revealed.
Smoldering clothing was found near the house as police arrived, leading to the belief that one of the suspects in the case had been seriously burned, to an extent that would require medical attention.
The suspects (police didn't say how many) fled in vehicle east from Aylmer, and were believed to reside in the Greater Toronto Area.
The new information was the result of an investigation by Aylmer Police, the Ontario Fire Marshal's Office and Ontario Provincial Police forensic specialists.
Anyone with additional information in the case is again being asked to contact Aylmer Police.