Aylmer hosts championship archery event
Aylmer Golden Feather Ar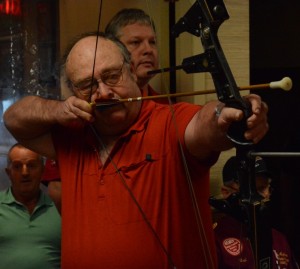 chery Club member Jerry Borm aimed for one of the targets at the Canadian National Pop N' Jay Championship tournament at the Columbus Club in Aylmer on Saturday, April 5.
A total of 22 six member men's and women's teams from throughout southwestern Ontario participated in the event which was preceded by an open shoot on Friday night.
Kyle Van Liere of the Golden Feather Club won the youth division of the open shoot.
The Wallaceburg Super Sixties won the National Pop N' Jay title in a shootout after a first ever four team tie between them and Bothwell Robin Hood, Chatham Archers and Wallaceburg CBD Men.