Who's walking who?
Saturday, July 25th, 2015
Kaylee Hunt, 13, left, and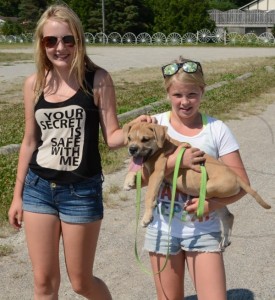 her sister Milana, 11, took turns carrying Peaches the puppy during the Helping Paws Rescue Walkathon in Aylmer on Saturday, July 25. The annual dog walkathon started at Elgin Feeds at the intersection of John Street North and Beech Street and headed south towards Steen Park and along some other quiet residential and park areas in town. The event raised money for Helping Paws Rescue, a non-profit organization based in Aylmer and East Elgin that rescues abandoned dogs from shelters in the region and finds them new homes.
Photography by : Craig Bradford