Temporary bridge coming to Port Bruce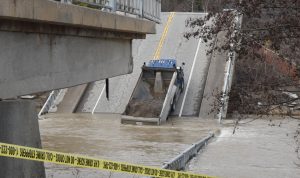 Elgin County councillors on Tuesday morning, March 13, ordered a temporary one-lane bridge installed to reconnect Port Bruce with Imperial Road, work that might be completed in as little as two months.
The bridge would be able to carry a normal highway load, including heavy fire trucks.
The bridge will go in to the east of the collapsed Imperial Road Bridge over Catfish Creek, where a former bridge was previously situated.
More information to come in the Wednesday, March 14 print edition of The Aylmer Express.
Photo by Rob Perry of The Aylmer Express