Doug Ford offers not one word on rural school closings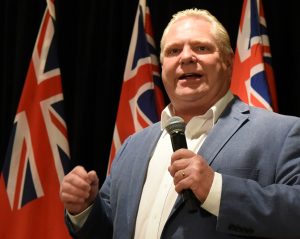 Progressive Conservative Leader Doug Ford spoke to close to 500 breakfast-goers at Saxonia Hall in Malahide just west of Aylmer, Saturday morning, April 21, but had nothing at all to say about rural school closings, probably the most controversial subject in this area leading into the June 7 provincial election.
When reporters learned from Mr. Ford's handlers he wouldn't speak to them before or after the breakfast, they all suggested he at least address local school closures during his half-hour of remarks .
Instead, he repeated statements already made on the campaign trail to date.
He also made a gaffe greeted with good-natured booing by the crowd at the start of the speech–he thought he was in St. Thomas instead of the Aylmer area, then after being corrected by the audience lamented, "It's the only screw-up I've made."
However, the audience showed their support through applause throughout his speech, which ended with a standing ovation.
Look for more coverage in the April 25 edition of The Aylmer Express.