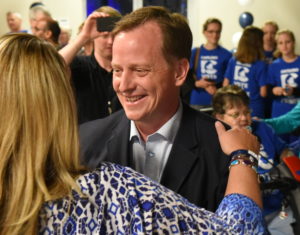 Incumbent Jeff Yurek, Progressive Conservative, won re-election in Elgin-Middlesex-London riding by a landslide on Thursday, June 7, and his party picked up more than enough seats to form a majority government.
Minutes after polls closed at 9 p.m., thanks to new counting systems, Mr. Yurek pulled out to a comfortable lead that continued to grow.
At 10:30 p.m., he had over 26,000 votes, compared to 15,470 for Amanda Stratton of the NDP while Liberal Carlie Forsythe trailed at a distance with just 3,500 votes.
Mr. Yurek, after giving his victory speech at 9:45 p.m., said as soon as a new education minister was appointed by Premier Doug Ford, he would call to seek an immediate review of the proposed closings by Thames Valley District School Board of public elementary schools in Springfield and New Sarum.