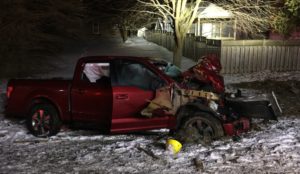 One unidentified person is dead and a man has been arrested after a crash that happened at about 3 a.m. on Saturday, Dec. 8 near the intersection of John Wise Line and Springwater Road in Jaffa southwest of Aylmer.
Elgin County Ontario Provincial Police Constable Adam Crewdson said the crash involved a single red pickup truck.
Police officers, Malahide volunteer firefighters and St. Thomas Elgin paramedics responded to the scene.
John Wise Line was closed at Quaker Road and Rogers Road and Springwater Road was closed at Southdale Line and Pleasant Valley Road for the investigation.
No further information was released by the OPP.
(AE/contributed photo)