Serious crash in Summers Corners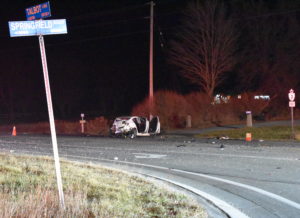 A man was airlifted to hospital and is in critical condition after a three vehicle collision at the intersection of Talbot Line (Highway 3) and Springfield Road in Summers Corners.
The crash happened at about 5:30 p.m. on Thursday, Dec. 20.
Elgin County Ontario Provincial Police Constable Adam Crewdson said a white vehicle was travelling north on Springfield Road and entered the intersection with Talbot Line then collided with an eastbound pickup truck. A third, dark coloured vehicle that was travelling west on Talbot Line also sustained minor damage.
Malahide volunteer firefighters and St. Thomas Elgin paramedics attended the scene.
The driver of the white vehicle was airlifted to a Hamilton hospital in life-threatening condition. By 9:25 p.m. that night their status had been updated to critical.
Talbot Line was closed at Hacienda Road and Walker Road for several hours. Traffic on Springfield Road was also being diverted.
The roads were re-opened for the morning commute.
Charges are pending the completion of the investigation, Const. Crewdson said.
Malahide Fire Chief Brent Smith said the injured man was ejected from his vehicle after not seemingly wearing a seatbelt.