Ground broken for new school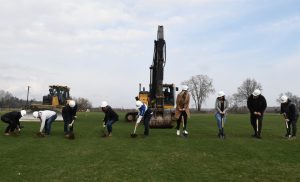 Mount Salem Christian School, after 35 years of renting space for classes from Mount Salem Community Church, broke ground for a new $9.1-million building of its own on Saturday, April 22.
"It's time for this 35-year-old to move out of its parents' basement," former Principal Lena Wiebe told about 200 spectators who attended the groundbreaking and a barbecue that followed.
Being built by Baribeau Construction of Dorchester, the new school is expected to be ready for occupancy in 12 to 14 months.
The school had previously tried to raise enough money for a building of its own, but that effort failed. This time, it so far has donations of $3.1-million toward the cost of construction.
See the April 26 edition of The Aylmer Express for more details. (AE/Rob Perry)