Size matters in electric vehicle supply chain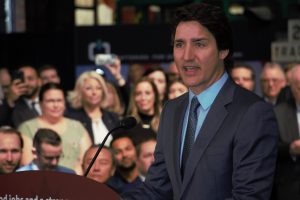 The dimensions of the Volkswagen electric vehicle (EV) battery cell "gigafactory" to be completed in St. Thomas by 2027 were measured in proud grins, remarkable facts and patriotic rhetoric at the official project launch on Friday, April 21.
"What a day. What a month. What a place to be," said St. Thomas Mayor Joe Preston, addressing a small group of dignitaries assembled for at the Elgin County Railway Museum. "I've been wearing this smile for almost a month now. It's tough to go to sleep at night when you're smiling, (but) we're getting used to it now.
"St. Thomas is on a roll and has a really bright future. This has guaranteed the future of St. Thomas for decades to come, for lifetimes to come. We're not done yet. St. Thomas has a lot more to go."
VW subsidiary PowerCo SE announced March 13 that it would build the European automaker's first – and largest to date – overseas battery cell plant in the controversial 1,500-acre industrial park in the city's northeast corner. The firm's other gigafactories are in Salzgitter, Germany and Valencia, Spain.
For more details, see the April 26 edition of The Aylmer Express. (AE/Joe Konecny)