Springwater Packers "Mild Pepperonistix" recalled over listeria concern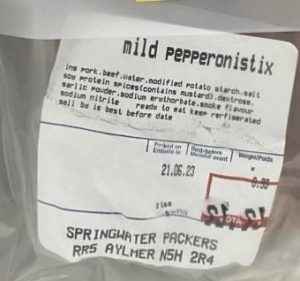 The Canadian Food Inspection Agency has ordered a recall of all "Mild Pepperonistix" labelled as being from Springwater Packers made on June 21, 2023 from markets selling, and is advising anyone who has the product to either dispose of it or return it to the place of purchase because of potential listeria contamination.
The recall had been prompted by test results, and no illnesses resulting from consuming the Pepperonistix had been reported.
"Food contaminated with Listeria monocyytogenes may not look or smell spoiled, but can still make you sick," CFIA advised. "Symptoms can include vomiting, nausea, persistent fever, muscle aches, severe headaches and neck stiffness.
"Pregnant women, the elderly and people with weakened immune systems are particularly at risk. Although pregnant women may experience only mild, flu-like symptoms, the infection can lead to premature delivery, infection of the newborn or even stillbirth.
"In severe cases of illness, people more die."
The agency was conducting a food safety investigation, which it said could lead to the recall of other products.  (AE/contributed)