Tundra swans have arrived
The first migratory tundra swans of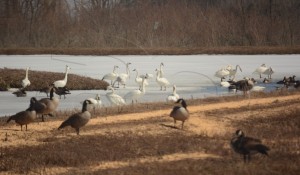 2014 were seen at Aylmer Wildlife Management Area on Wednesday, March 19.
The tundra swans usually arrive much earlier in March but were delayed due to the frozen water on the ponds at the wildlife management area located northeast of Aylmer off Hacienda Road.
Elgin Stewardship Council volunteers who run the interpretative program at the wildlife area counted 326 tundra swans on Thursday, March 20.
More than 50 could be seen on the afternoon of Friday, March 21.