Fatal crash just east of Aylmer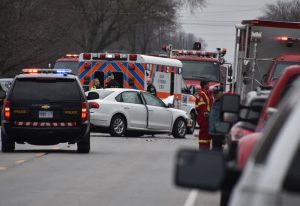 A two vehicle crash that happened just east of Aylmer along Talbot Line (Highway 3) on Thursday morning, May 3 killed one of the drivers and sent another person to a London hospital.
The crash occurred at about 9:45 a.m. that morning between Hacienda Road and Springfield Road near Summers Corners Public School.
Elgin County Ontario Provincial Police officers, paramedics and Malahide volunteer firefighters responded to the scene.
Elgin OPP Constable Adam Crewdson said an eastbound pickup truck and a westbound sedan collided head-on.
The man driving the sedan was pronounced dead at the scene and his identity was being withheld pending next-of-kin notification.
The driver of the pickup was taken to hospital by land ambulance with serious injuries.
Talbot Line between Hacienda Road and Springfield Road was expected to remain closed to traffic for several hours.
The road was dry at the time of the collision although it had been raining lightly earlier in the morning.
The Talbot Line crash was the second fatal collision in Elgin County that morning, the other occurring on Highbury Avenue South between Ferguson Line and Glanworth Drive at about 7:15 a.m.
(AE/photo by Brett Hueston)