EESS boys, girls advance to WOSSAA soccer playoffs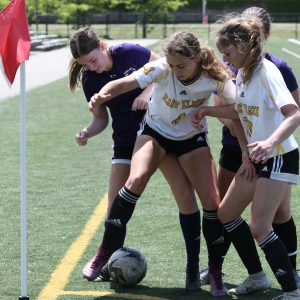 Annelise Borm, left, and Adrianna Borm played keep-away with Huron Park Secondary School defenders during the Thames Valley Southeast AA girls soccer final at City Wide Sports Park in London on Tuesday, May 30.
East Elgin Secondary School's girls and boys soccer team both won Thames Valley Southeast AA championships in games that day and advanced to WOSSAA playoffs to be held at Stratford St. Michael's Catholic Secondary School on Thursday, June 1.
The EESS girls on Tuesday bested Woodstock Huron Park 3-1 in the first Southeast final, and East Elgin Boys shut out Ingersoll District Collegiate Institute 1-0 in the second.
In Stratford Thursday, the girls will play in a semifinal at 9:30 a.m., and then in the gold-medal game or bronze-medal game at 1 p.m.
The boys will start with a semifinal at 11:15 a.m., and then advance to either the gold-medal or bronze-medal game at 2:45 p.m.
(AE/Rob Perry)