Meteor passes over Aylmer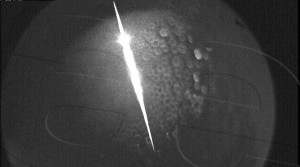 A basketball-sized meteor passed over the Aylmer area on the evening of Tuesday, March 18.
The event was tracked by a network of cameras set up by Western University's Physics and Astronomy Department.
The image seen at left was captured by a camera installed on the roof of Aylmer's Arthur Oslach.
The meteor created a fireball that was tracked for about five seconds moving west in the sky from near Port Dover over Aylmer to north of St. Thomas at about 10:24 p.m. March 18.
The meteor is thought to have crashed north or northwest of St. Thomas.
Western University researchers and a representative of NASA's Meteoroid Environment Office held a media conference at St. Thomas Municipal Airport on Friday, March 21 to provide an update.
The researchers were to begin their search for one or more meteorites north and northwest of St. Thomas that afternoon and asked for the public's assistance.
Researchers are asking anyone who witnessed the event or could have found fragments of the meteorite to contact them.