Shelby Laidlaw's team wins world gold medal game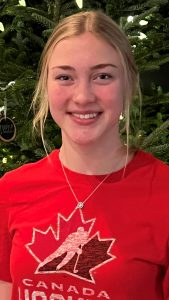 Team Canada's Under 18 Women's Team, competing in world championships in Sweden, won the gold-medal final of the International Ice Hockey Federation tournament, pummeling Sweden 10-0 on Sunday, Jan. 15.
Shelby Laidlaw of Luton is on that team.
Team Canada had already defeated Sweden earlier in the tournament,
Team Canada started the tournament strong with an 8-0 drubbing of Finland on Sunday, Jan. 8, followed by a 4-2 win over Sweden on Monday, Jan. 9, and a 3-1 victory over USA on Wednesday, Jan. 11.
Shelby's team earned a bye, and then narrowly downed Finland 3-2 in overtime Saturday, Jan. 14, to advance to the final.
(AE/Rob Perry)