Suspicious fire on Apsen Parkway-updated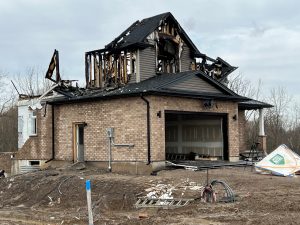 A fire in a house under construction on Aspen Parkway, in a subdivision north of Dingle Street, in the early-morning hours of Friday, March 24, has been deemed suspicious in origin by Aylmer Police.
No one was residing in the home yet, police said in a statement. An investigation has started.
Police believe that one person might have suffered serious burns at the scene.
Anyone with potential information in the case is asked to contact Aylmer Police.
Police added that this fire was not believed to be related to other fires in town recently. (AE/Rob Perry)