EESS boys, girls soccer teams in Southeast finals-updated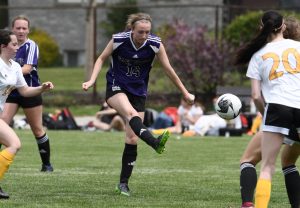 Both East Elgin Secondary School's boys and girls soccer teams have advanced to Thames Valley Southeast AA finals to be played at Citywide Fields in London Tuesday, May 30, at 11 a.m. for girls and 1 p.m. for boys.
In Southeast semifinals in London on Tuesday, May 23, EESS boys blanked Tillsonburg Glendale 4-0 and East Elgin's girls defeated Ingersoll District Collegiate Institute 6-2.
In the finals, the boys will take on Ingersoll District Collegiate Institute and the girls Woodstock Huron Park Secondary School.
The East Elgin boys finished the South regular season in first place, while IDCI took second in East.
The EESS girls finished regular season in third place in South, while Huron Park placed second in East.