2008 – Firefighters save 7-day-old infant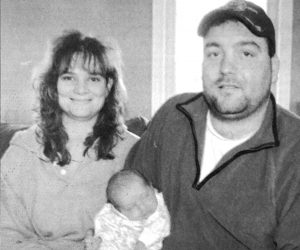 Jan. 2, 2008 · 10 Years Ago – It's a parent's worst nightmare and an experience Terri Steele of Springfield will never forget – her 7-day-old baby daughter Mackenzie, choking and going limp on her lap despite all her ministrations. But, she has no doubt the immediate response and actions of Springfield volunteer firefighters saved her daughter's life.
Mrs. Steele was sitting in her livingroom with her two other children Tara, 16 and Jordan, 4 and the baby on her lap, shortly after 6 p.m. last Thursday. Her husband Mark was coaching hockey at a tournament in Petrolia.
As she held the baby it appeared to get sick, wanting to vomit, but couldn't expel whatever was in its mouth and appeared to be choking. She placed the infant, face down, across her knees in an unsuccessful effort to dislodge whatever was caught in its mouth and throat. Tara tried pulling the substance out with her fingers, to no avail.
Mrs. Steele reached for the telephone and dialed 911. She told the operator what was happening and asked for emergency assistance. The operator stayed on the line, assuring her help was on the way, and engaging her in conversation.
Mrs. Steele repeatedly told her to dispatch emergency help and was told it was on the way.
"But I knew they hadn't dispatched the fire department." Her husband is a member of the volunteer fire department at Springfield. He left his emergency pager at home, but it had not sounded. "I told her they had not been dispatched."
Mrs. Steele is certain she was on the phone with the operator for five minutes.
When she still did not hear the pager sound and the operator started asking if she could perform cardiopulmonary resuscitation (CPR), she began to panic. She hung up and began calling nearby family and friends for help. After the incident, she had no recollection of making those calls until reminded by those she had called.
Volunteer firefighters arrived at her house within minutes of her husband's pager being sounded at 6:21 p.m. Her brother-in-law, Darren Ostrander, was the first to arrive, followed closely by Dave Symon, Kevin Syrnyk, Ben VanHarn and Dennis Johnson. Mr. Ostrander took the infant from Mrs. Steele and placed it on a foot stool. Another firefighter comforted Mrs. Steele and kept her away from the men reviving the child. "I heard him yelling 'she's breathing' and they began working on her."
Firefighter Kevin Syrnyk had used a straw to suck the mucus out of the infant's mouth.
Mackenzie appeared to be recovered by the time the ambulance arrived and took her to St. Thomas Elgin General Hospital where she remained overnight.
Hospital staff told Mrs. Steele the mucus which was choking Mackenzie is normally discharged within one or two days of birth, before the infant is sent home.
Both parents are grateful for the immediate action by the volunteer firefighters.
Mrs. Steele said, "I can't say enough about what they did. Anyone who doesn't appreciate what they do has never needed their service."
She said most of the firefighters were at the house before a second page was sounded. "Of course it is a small town and everybody knows where we live. Most of them are our friends. It's a lot better having them respond, when you're sitting with your baby dying on your lap, waiting for an ambulance to come from Aylmer."