Over 300 riders turn out for 3 Port Tour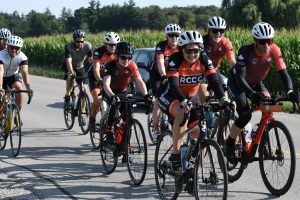 The over 300 riders who participated in the 11th 3 Port Tour on Saturday, Aug. 19, enjoyed "a perfect day for riding," Aylmer Bicycling Club President Brett Hueston said afterward.
The day before the bicycle ride, covering routes of 50-, 100- and 160-kilometres, had been very windy, the day after was much warmer and humid.
But the weather Saturday offered, at worst, light winds, sunny skies and temperatures in the mid-20s C.
As a result, ride organizers went through a lot less drinking water for participants, despite a similar number of riders, he said.
More details and many more pictures in the Aug. 23 edition of The Aylmer Express. (AE/Rob Perry)