Pride flag theft caught on camera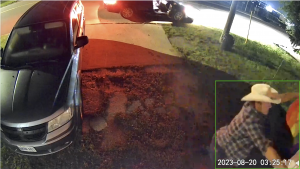 A man was recorded on a security video stealing a Pride flag from a house on Beech Street West in Aylmer on Sunday, Aug. 20, at about 3:23 a.m. (see picture).
The man got out of the passenger side of a dark-colours four-door vehicle and ripped down the flag from the front of the house before returned to the vehicle and fleeing the scene.
The man appeared to be in his late teens or early 20s, wearing jeans, a plaid shirt and a cowboy hat.
Anyone with information on the case is asked to contact Aylmer Police. (AE/contributed by Aylmer Police)