Three children, two adults badly hurt in fire pit incident-update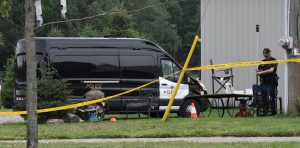 Three children sustained life-threatening injuries and two adults serious injuries in an incident involving an outdoor fire pit at a house at 54701Vienna Line in Bayham on Monday, July 12, at about 6:50 p.m., Elgin Ontario Provincial Police reported.
Constable Troy Carlson said Elgin OPP, the OPP's forensic identification unit and the Ontario Fire Marshal were investigating the incident.
Police, Bayham firefighters and Elgin County paramedics were called to the scene.
A man, 33, and a woman, 28, were taken to hospital with serious injuries.
A girl, 7, a boy, four, as a girl, a year old, were transported with life-threatening injuries.
All five were related to each other and resided at that address, Const. Carlson said.
Police and the Fire Marshal's office remain on the scene to investigate.
Anyone with information in the case is asked to contact Elgin OPP.
Eva Enns has organized an online "gofundme" page to raise money for Jake and Tina Hiebert and the children.
So far, $15,800 has been raised in less than 10 hours, out of an original goal of $5,000.
She posted the following about the condition of the five family members, but said beyond that, the Hieberts were asking for privacy:
"Jake and Tina have serious burns, but are stable, they are sedated.
"The 7 year old female has a breathing tube to help her breathe due to the swelling, she is heavily sedated
"The 4 year old male and 1 year old female are in a hospital in Toronto, both needing surgery, also heavily sedated.
"We are so thankful for the wonderful doctors and nurses and to all those who have donated financially and lifted us up in prayer to God. Each and every one of you has made a difference and we will never forget it."
 The fundraising page can be found by searching gofundme for "Support-Jake-And-Tina-Hiebert."